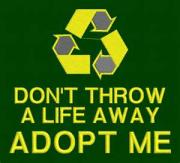 This is the page where you can adopt characters.
It is up to the adopte to take his/her cat off the list when and if they claim it.
Rules
You must have been active for a month to adopt anything.
Here is a list of cats up for adoption.
Only an admin may give away a cat.
Example: Starmole (not a real character)
This is an example of how you would ask to adopt a cat:
Here you write a paragrahp (5 to 6 sentences long if possible) explaining why you want to adopte this character, why you deserve this character, and what you would do with this character.
Here you would post your signature.
Post All Request Below Here